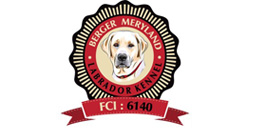 Considering that puppy in his first year of life reaches the age of 14 year old child (more or less depending on the breed), will consume huge amounts of energy.
Read more


Labrador retrievers are powerful dogs, medium athletic build, have especially strong tail. Females tend to about 25 - 32 kg and males about 35 - 38 kg.
Read more

At dog shows organized by KENNEL CLUB, dogs don't go against one another, but is measured by the standards of Ideal-dog...
Read more